Management Team
India Emerging Private Equity Group is led by a diverse team of professionals that come from industry, consulting and private equity.
Diwakar B. Gandhi
Chief Mentor
Mr. Diwakar B. Gandhi is a renowned & widely acclaimed professional among Corporate Community. A senior fellow member of the Institute of Chartered Accountants of India (ICAI) since 1982, Mr. Gandhi has worked in his early career with a prominent business house of the country and gathered firsthand experience of manufacturing such as heavy machines, railway wagon, cotton spinning and steel. Mr. Gandhi then graduated to capital markets and enriched proficiency as a Merchant Banker. A well harvested spectrum enabled Mr. Gandhi to later on cultivate Investment Banking Business. The first few successful transactions manifested plunge into Private Equity (PE), now backed by a committed team and portfolio of investments into diversified verticals that includes IT & Telecom, Hybrid Seeds, Construction & Real Estate, Hotel, Auto-component, Brewery & Distillery, Clean Energy, Urban Water Infrastructure, Art Exhibitions and Fairs, Manned Guards Private Security Services and also Financial Services.

Mr. Gandhi translated three decades of domain expertise into a vibrant professional organization - the first & foremost with complete understanding of the Indian environment from PE perspective. Having grown within both industry & capital markets over a numerous business cycles of bulls & bears, Mr. Gandhi articulated the art of sourcing & negotiating spectacular PE and M&A deals in Tier-II & Tier-III cities across the country. The major endeavours are now brought under the umbrella of India Emerging Private Equity & Infrastructure Group (IEG). IEG through JVs is also developing Commercial & Residential hub, country homes & farm villas, IT offices in different part of country at Noida, Najafgarh (NCR), Jaipur & Hyderabad.

Real India lies in Rural India. There is abundance of talent in unexplored terrain that needs to be groomed to the next level. Mr. Gandhi sensed this unique opportunity and embarked upon a web of skill development pockets to promote social entrepreneurship.

Mr. Gandhi spends considerable amount of time & energy in laying down a hi-tech tourism infrastructure consisting of hotels in Rajasthan on the lines of MOU signed with the State Government of Rajasthan. The first project of a luxury 5 star hotel with studio suites is on the outskirt of Jaipur on NH8 connecting to Ajmer. The total project would have 7 lacs sft. area over 28000 square meter of land with all 4 side roads. Another resort is on 18000 sq meter land on the same highway connecting Delhi to Jaipur.

Though a Chartered Accountant by profession, he is an art catalyst and avid lover and admirer of cultural ethos and ethnic beauty of the nation and the universe and strongly believes that it is the consciousness and the acceptance of our cultural and traditional background that gives us a sense of dignity, proud and self-respect that lays the foundation of an esteemed, glorified and confident society, which in turn nourishes and takes its traditional values and customs to generations after generations.

Mr. Gandhi is an ardent enthusiast of nature, wildlife, biking, trekking, paragliding and other adventurous activities. Widely travelled across the globe. Mr. Gandhi loves exploring off beat destination, places of historical importance, heritage sites & museums.

Presently, he holds special recognition in the following premium bodies:

1. SalarJung Museum, Hyderabad, India, Government of India
Board Member of the SalarJung Museum Board
The Salarjung Museum is the largest private collection in the world of single family's rarest antiques. The royal family of Hyderabad has treasure spanning many centuries and many of these artefacts are on display in the Salarjung Museum. Alongwith Mr. Gandhi, the fellow members of the Board are the eminent personalities which include:
1. Governor of Andhra Pradesh-Chairman
2. Mayor of Municipal Corporation of Hyderabad-Member
3. Vice-Chancellor of Osmania Unicersity-Member
4. Accountant General of Hyderabad-Member
5. Nawab Ahtheram Ali Khan, Member of the Royal Family-Member


2. National Culture Fund under the Ministry of Culture, Government of India
Council Member and Special Invitee to the Executive Committee of the National Culture Fund. National Culture fund (NCF) under the Ministry of Culture was set up as a Trust under the Charitable Endowment Act-1890 through issue of Gazette Notification. The fund is based on PPP model that cuts across the bureaucratic process to promote heritage and art and culture. The Council is chaired by the Honourable Minister of Culture. The NCF Council Comprises eminent and renowned personalities in the field of Art, Culture and Philanthropy to Advice NCF on policy and Governance matters. NCF constitute an important initiative enabling public and private sector to contribute to the development of heritage, culture and the arts.

ASSOCIATION AND MEMBERSHIP:
1. Delhi Stock Exchange Ltd. New Delhi.
2. Rambagh Golf Club, Jaipur.
3. Umed Club, Jodhpur.
4. Indian Chambers of Commerce & Industry, New Delhi
5. Member of PHD Chamber, New Delhi.

HONOURS / AWARDS:
1. Represented Rajasthan State in World Youth Conference
2. Vice President of Ahmedabad C.A. Students Association
3. President of Student Union in School and College
4. Crowned "Best Student of The Year Award" in College
5. Article and comments on current topic widely covered in ET, BS as well as in tv channels like BBC,
Doordarshan & Zee TV.


Ashok Kumar Bansal
President

Ashok Kumar Bansal has a diverse experience of more than
15
years in finance, accounting, corporate affairs, risk management and compliance. Prior to India Emerging Private Equity Group, Ashok was the Vice President of Operations & Compliance of a stock broking company based in New Delhi. Prior to that, he has also worked as Head of Finance & Accounts with a listed NBFC where he was instrumental in the IPO of the company.
Ashok has received a Bachelor's degree in Commerce from the University of Delhi and a Bachelor degree in Law (LLB). He is also an Associate member of the Institute of Company Secretaries of India.
Riya Diwakar Gandhi
Vice President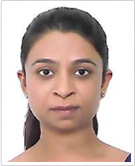 Riya has over 5 years of experience in private equity, capital markets, financial restructuring and marketing. She is responsible for monitoring, strategy execution and public relations for our portfolio companies. She has been instrumental in successfully closing 3 PE transactions in the past. Prior to India Emerging Group, Riya was a Senior Finance Strategist with Prithvi Information Solutions, where she was responsible for planning and managing the IPO of the company. Riya holds a Business and Management honors degree from Oxford Brookes University, Oxford, UK combined with Higher National Diploma in Finance from Edexcel, UK. She has received a full time resident Diploma in Corporate Finance and M&A from Harvard University.